Through our own eyes
(Filmed and directed, co-directed by Andre van der Stouwe)
It's not very often that you hear news from Africa that is made by Africans themselves. Journalists work under difficult circumstances; there is a lack of facilities and journalists are not always free to do their job. Through our own eyes is about three African journalists, each contributing to journalism in their own way.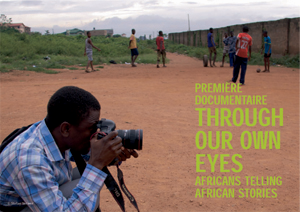 Investigative journalist Selay Kouassi works in Ivory Coast, a land that was torn apart by civil war at the beginning of the millennium. The government observes journalists very closely. Selay researches dubious practices around soccer schools in his country.
Goitsemang Nkomo from South Africa is a young, modern radio journalist working in a society divided between rich and poor. Women in the poor districts fight against AIDS and poverty.
Photographer Andrew Esiebo from Nigeria wants to show the 'backside' of soccer. With his creative and natural personality, he questions the stereotype of the difficult life of an African journalist.
During the 2010 World Cup all eyes were fixed on South Africa, giving these three journalists the chance to tell their story, their own way.
Through our own Eyes, Africans Telling Africa Stories
(Broadcasted in Dutch cinema's)
(45 mins)
Director: Thomas Hurkxkens & Andre van der Stouwe
Editor: Daan Wijdeveld
Producer: Niekie Kleintjens
Produced by: Stefan Verwer, lokaalmondiaal