Life in San Salvador
(Filmed and directed)
In the dusty, rubbish-strewn streets of Mejicanos, a working-class district of San Salvador, the capital of El Salvador, Father Antonio Lopez Tercero points to the gang graffiti scarring the walls. Gang violence is one of the defining features of life in El Salvador today.


>
In the capital alone, a city with a population of around two million, between 10 and 15 people are murdered daily: at least half of these deaths are gang-related and, in a climate of impunity, rarely is anyone caught.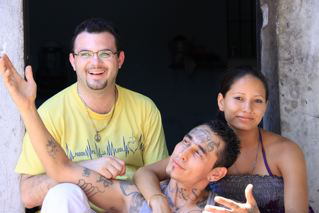 "Life is worth nothing in this country," Father Antonio says. "There is so much impunity. Killing someone is like killing a chicken."
'Padre Toño', as Father Antonio is known, is one of many whose lives are affected by the violence. But he is also one of the few prepared to work with the gang members; seeing them not just as criminals, but as victims of a divided society.
Witness accompanies Father Antonio on his daily rounds, meeting those whose lives have been most affected by gang life and gang violence - people like Giovanni, a former gang leader who is now expecting his first child and is determined to go straight, and Sonia, whose son was murdered by a gang but who has yet to receive justice.
>
>

>
>
Life in San Salvador
(Broadcasted on Al Jazeera English)
(25 mins)
>
Director: Thomas Hurkxkens
Interviews: Thomas Hurkxkens & Marc Broere
Editor: Daan Wijdeveld
Fixer, translations: Guillermo Denaux
Producer: Niekie Kleintjens
Produced by: Stefan Verwer, lokaalmondiaal
>
See also: www.aljazeera.com