‎

IRC WASHCost
(Director and Camera)
WASHCost is a five-year action research programme, running from 2008 to 2012. The WASHCost team is gathering information related to the true costs of providing water, sanitation, and hygiene services for an entire life-cycle of a service—from implementation all the way to post-construction.
IRC International Water and Sanitation Centre is leading the WASHCost programme and works with several partners to collect data in the rural and peri-urban areas of Burkina Faso, Ghana, India, and Mozambique.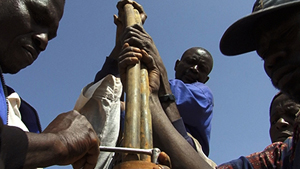 As a key component of the project's final Critical Review, WASHCost is interested to develop a video, or series of linked video segments, produced by lokaalmondiaal. The video will be made in 2012/2013.
Since 2008, WASHCost is developing a new methodology for monitoring and costing sustainable WASH services by assessing costs and comparing them against levels of service provided. The methodology—known as the "life-cycle costs approach"—is being tested in Burkina Faso, Ghana, India, and Mozambique. The life-cycle costs approach aims to catalyse learning in order to improve the quality and cost-effectiveness of WASH service delivery—to essentially provide WASH services that last indefinitely.
Director: Thomas Hurkxkens
Camera: Andre van der Stouwe
Produced by: Stefan Verwer, lokaalmondiaal