‎

The Elephants' Dream of Peace
(Filmed and directed Thomas Hurkxkens, co-directed by Joost de Haas)
Didier Drogba is one of the stars of the 2010 FIFA World Cup, but can he also make it as a political referee? For years the Ivory Coast striker has called on both sides in his homeland to play by the electoral rules. But it may be even tougher than making it to the Final. Life follows the heroic attempts of Didier and his national team - the Elephants - to secure a lasting peace in the Ivory Coast.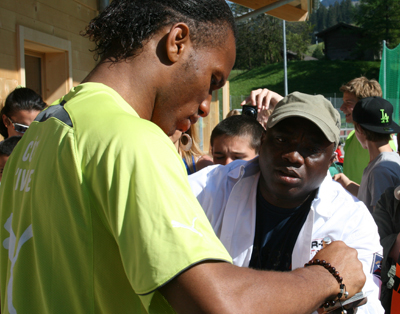 'The Elephants' Dream... of Peace', tells the story of the Ivorian soccer player Didier Drogba and the national soccer team of Ivory Coast (the Elephants) on their peace mission in 2005.
As Ivory Coast was split between a rebel north and a government held south, Drogba persuaded the government to hold the mach between the Elephants and Madagascar in the northern town of Bouake. It was the first national football match to be played in the North since the fighting broke out. It brought together not just Ivorian fans across the country but the security forces from both the North and South in a shared outpouring on national pride.
Broadcasted on BBC World News:
Saturday June 12 2010 at 04:30 and 17:30
Sunday June 13 2010 at 10:30 and 23:30
Director: Thomas Hurkxkens & Joost de Haas
Editor: Erik van de Belt
Fixer, translations: Selay Kouassi (Ivory Coast)
Producer: Niekie Kleintjens
Produced by: Stefan Verwer, lokaalmondiaal